Pilsen engineering company is growing succesfully
On September 11th 2015, Konplan s.r.o.,  engineering company with international scope based in Pilsen welcomed Jan Černý as 100th employer and at the same time announced next expansion of their office in Avalon Business Center. This succesful development together with Konplan company  celebrated also Mr.Martin Zrzavecký, Mayor of Pilsen, professor Tomáš Kaiser, Vice-rector of the West Bohemian University for research, Karla Staňková, Head of the office of the German-Czech Chamber of Industry and Commerce in Pilsen and  the Volker Kronseder, CEO of the mother company of KONPLAN, Krones AG in Germany.
In his welcome speech at first Dr. Thomas Oestreicher, who is together with Johannes Hafner executive director of Konplan company, explained to the guests the name "Konplan". This title is a composition of german words KONstruieren (construction) and PLANen (planning) followed by an overview of business development. Konplan was founded in 2007 as subsidiary of german company Konplan GmbH. The first location was a small office close to Pilsen train station. In 2012 Konplan became a 100% subsidiary of Krones AG, a world leader in beverage and packaging technology based in Neutraubling near Regensburg. Over the years Konplan expanded, and so in 2011 it was necessary to move the company to the newly constructed office space in Avalon Business Center in Pilsen city center. On September 11th Konplan could welcome the 100th employee and open the second expansion. Konplan could present their impressive growth to the representatives of the city and Pilsen University.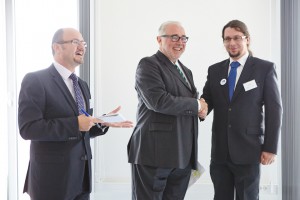 The main customer of the engineering office is the mother company Krones. Employees of Konplan support Krones at planning, constructing and developing beverage and filling technology and equipment for production of beverage and in process technology, dealing with technology of production of beverage. In Czech Republic the end customers are Pilsner Urquell, Mattoni, Bohemia Sekt, but also international companies like Coca-Cola, Pepsi-Cola, Nestle or Heineken. In area of construction and development Konplan does not work only for Krones, but also for other well known customers from West Bohemia or Bavaria.
In the celebration a lot of praise fell on representatives of the city and Pilsen university. Konplan and Krones have been appreciated the great education of young graduates of mechanical engineering, electrotechnics or informatics from University of West Bohemia, but at the same time the good education on technical high schools, for example for mechanical engineering or electrotechnics. This great technical education was together with the location near Germany the main reason for the company Konplan to choose Pilsen as their location.
Konplan offers their employees attractive working places with longtime perspective. In the following years Konplan will continue investing and creating in the region more highly qualified jobs in the area of the city of Pilsen.