It was held a traditional meeting of the members and partners of the Association of Technological Initiative Pilsen (hereinafter TIP) on October 23, 2014 . The organizer of the meeting was the member ASTOS Machinery a.s., which is headquartered in Aš (Selbská 2746/18).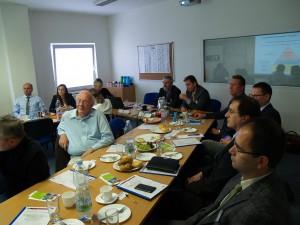 Participants of the meeting become familiar with the company's activities ASTOS during the presentation of Michael Ondraschek, Chairman of the Board of Directors, and factory tour. This was followed by a brief introduction of new guests: AIMTEC a. s., MAHLE Behr Holýšov s.r.o., ZF Staňkov s.r.o. and University of West Bohemia in Pilsen: New Technologies – Research Center. It was presented Wuppermann Kovotechnika s.r.o. company at the end of this section, which is seeking membership in the TIP.
It was solved organizational agenda of association in the last part of the meeting . The general meeting within the meeting decided to adopt the company Wuppermann Kovotechnika s.r.o. between members. Subsequently, the general meeting approved the annual report and the report of the auditor on management of the association for the year 2013. The most important part of the meeting was the election of a new Board of Directors with respect to the ending term of office. The General Meeting decided on the following composition of new Board of Directors:
Mgr. Martin Kořínek, Ph.D. – CEO: GRAMMER CZ, s.r.o.
Johannes Paul Christian Heidecker – Proxy: EvoBus Česká republika s.r.o.
Ing. Pavel Majer -CEO: GOLDRATT CZ, s.r.o.
Chairman of the Board of Directors will be elected at the forthcoming meeting of the newly elected Board of Directors, which will take place till the end of this year.